08/07/08 20:38 Rubrique :
Site
Even if
dickien.fr
is in French, we offer a few pages in English :

- An interview of
John Alan Simon
about the movie
Radio Free Albemuth
that was conducted in 1999 ;

- An interview of
Anne
Mini
, about
A Family Darkly
;

- An interview of
Tony
Grisoni
, screenwriter of
The Owl in Daylight
;

- An interview of
Tessa
Dick
.

You can also explore our different
image galleries about
Philip K. Dick
. or have a look a our
Philip K. Dick
's quotes
page.
02/03/08 10:35 Rubrique :
Site
Quels étaient les temps forts du mois dernier ?

- L'
interview
d'
Anne Mini
, certainement.
- Le livre de
Paul M. Sammon
sur le tournage de
Blade Runner
,
Future Noir
dont on a parlé
ici
.
- Est-ce que l'on doit oublier les
t-shirts
consacrés à
Philip K. Dick
?
- Certainement moins que la citation de
Valis
dans la série TV
Lost
.

Note :
je vous rappelle que le site est archivé mensuellement et que les articles sont consultables grâce au menu de droite.
14/02/08 14:56 Rubrique :
Exclusivité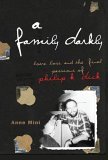 Anne Mini
est la fille de
Kleo Apostolides Dick Mini
, deuxième femme de
Philip K. Dick
.


Elle l'a connu durant toute son enfance et son adolescence, avait quinze ans à sa mort.

Elle est l'auteur d'un ouvrage autobiographique,
Family Darkly: Love, Loss, And the Final Passions of Philip K. Dick
dont la publication a été stoppée par les héritiers de
Dick
.

Elle nous a eu la gentillesse de nous accorder une interview exclusive. Je suis curieux de lire vos commentaires, alors pour l'instant je me tais et vous laisse à votre lecture.


Lire son interview
.


Read the english version of the interview
.