Un entretien avec Anne Mini
14/02/08 14:56 Rubrique :
Exclusivité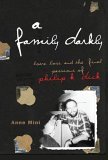 Anne Mini
est la fille de
Kleo Apostolides Dick Mini
, deuxième femme de
Philip K. Dick
.


Elle l'a connu durant toute son enfance et son adolescence, avait quinze ans à sa mort.

Elle est l'auteur d'un ouvrage autobiographique,
Family Darkly: Love, Loss, And the Final Passions of Philip K. Dick
dont la publication a été stoppée par les héritiers de
Dick
.

Elle nous a eu la gentillesse de nous accorder une interview exclusive. Je suis curieux de lire vos commentaires, alors pour l'instant je me tais et vous laisse à votre lecture.


Lire son interview
.


Read the english version of the interview
.