Do Androids Dream Of Electric Sheep?: Dust To Dust
17/01/10 12:44 Rubrique :
Bande dessinée
BOOM! Studio
est en train de mener l'adaptation de
Les androïdes rêvent-ils de moutons électriques ?
en bande dessinée. Ils continuent leur travail autour de
Philip K. Dick
avec une nouvelle série : une prequel (i.e. une série qui se déroule avant) au roman !
DO ANDROIDS DREAM OF ELECTRIC SHEEP?: DUST TO DUST
Écrit également par
Chris Roberson
, déjà responsable de l'adaptation du roman, et dessiné par
Robert Adler
, la série se déroule à la fin de la
World War Terminus
, quand émerge le problème de la vie artificielle et des androïdes.
Nous découvrons alors les premiers policiers chargés de résoudre d'un coup de
blaster
la question : Malcolm Reed, un homme aux capacités empathiques exceptionnelles et son partenaire Charlie Victor.
Parallèlement nous suivrons le combat de la biologiste Samantha Wu, qui tente de sauver les derniers animaux vivants.
La série doit compter 12 numéros.
Parution : le 31 mars 2010.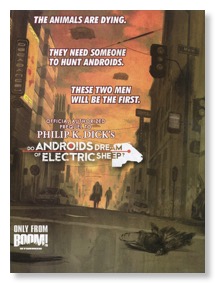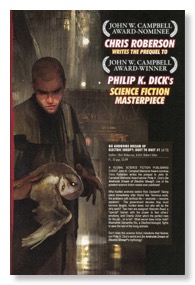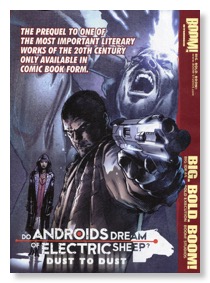 Sur le même sujet, lire :