King of the Elves
08/07/09 14:41 Rubrique :
Cinéma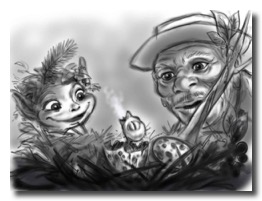 On en sait toujours aussi peu sur l'adaptation par
Disney
de la seule nouvelle de
fantasy
de
Philip K. Dick
.
La communication, toujours très contrôlée, de
Disney
a juste laissé filtrer cette image, tirée du storyboard du film. Bien évidemment rien ne nous permet de dire que cela correspond à ce que nous verrons sur les écrans.
De plus on parle d'un film qui serait dans la lignée du
Géant de fer
, à savoir plus orienté vers la réflexion que la comédie.
Pour ceux qui veulent faire des révisions, la nouvelle « Le roi des elfes » est disponible dans le recueil
L'homme doré
(épuisé) et dans le premier volume de l'intégrale des
nouvelles
.

Sur le même sujet, lire :