The Owl In Daylight
07/01/09 10:30 Rubrique :
Roman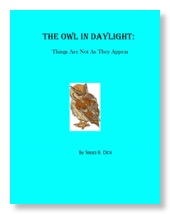 Tessa B. Dick
, veuve de
Philip K. Dick
, avait pour projet d'écrire sa version du roman
The Owl In Daylight
telle que
Dick
la lui avait racontée.
Nous avons cru un temps qu'elle ne pourrait mener son projet à bien. Elle semble au contraire avoir avancé dans son écriture, et vient même d'en publier la couverture sur son blog.
Ses livres ne sont pas disponibles en France, mais peuvent être commandés directement chez
amazon.com
.
Vous pouvez aussi lire
Philip K. Dick's Owl: Preview Edition
qui est une version condensée de la première partie du roman.
Sur le même sujet, lire :