Des nouvelles d'Albemuth
21/11/10 14:50 Rubrique :
Cinéma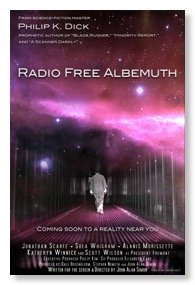 John Alan Simon
nous informe que son film
Radio Free Albemuth
a remporté lors de l'autralien
Fantastic Planet - Sydney Science Fiction and Fantasy Film Festival
les prix suivants :
Directors Choice - Best Feature Film
Best Actor - Shea Whigham (as the Philip K. Dick character)
Il nous offre également l'affiche du film. Juste pour vous faire trépigner en attendant une hypothétique distribution de ce côté-ci de l'Atlantique.
Vous pouvez consulter l'
intégralité des prix
sur le site officiel du festival.
Sur le même sujet lire :