Ridley Scott retrouve Philip K. Dick
07/10/10 18:56 Rubrique :
Télévision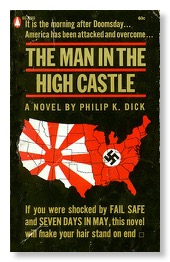 Oh, crénom de pomme !
La nouvelle vient de tomber :
Ridley Scott
va produire une mini-série de quatre épisodes pour la
BBC1
autour du roman de
Philip K. Dick
Le Maître du Haut-Château
.
Pour mémoire, il s'agit d'une uchronie dans laquelle les Alliés ont perdu la Seconde Guerre mondiale, et le monde vit désormais sous la domination tendue des Nazis et du Japon.
Le scénario est actuellement en phase d'écriture, sous la plume de
Howard Brenton
.
Ridley Scott
a déclaré :
[It's] a joy and a privilege to be back in Dick's world. I've been a lifelong fan. He is the master of creating worlds which not only spark the imagination, but offer deeper commentary on the human condition. Howard is one of Britain's most highly regarded writers and will bring even more depth to Dick's classic.