The Search for Philip K. Dick
18/08/10 11:42 Rubrique :
Etude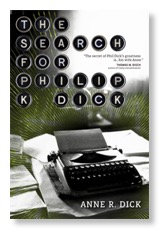 Anne Dick
publie en septembre, chez
Tachyon Publications
, une version révisée de son excellente biographie,
In Search of Philip K. Dick.
Elle y raconte principalement leurs six années de mariage, multiplie les témoignages et les souvenirs. Son manuscrit a longtemps servi de base à la plupart des « grandes » biographies de
Dick
, il s'agit là de l'occasion de vous reporter directement à la source !
La première édition atteint désormais des prix stratosphériques chez les bouquinistes, la seconde est
toujours disponible
. Je suis curieux de découvrir ce qu'apportera cette troisième édition.
Je vous en reparle dès que j'ai des informations supplémentaires.