Blade Runner, deuxième
19/May/2012 09:14 Rubrique :
Cinéma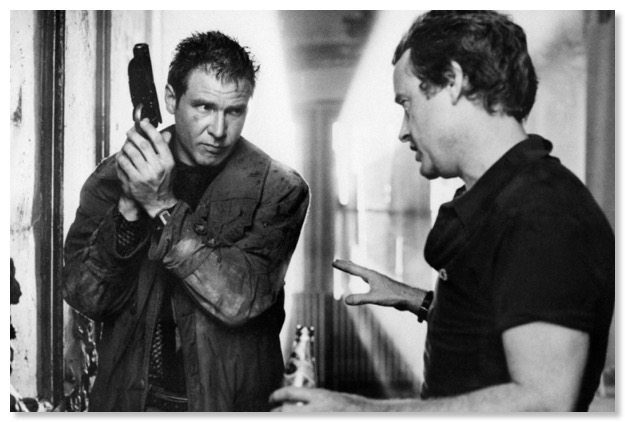 En pleine promotion de Prometheus, Ridley Scott en vient tout naturellement à évoquer le reste de sa filmographie ainsi que ses prochains projets, au nombre desquels nous pouvons compter Blade Runner 2 !

Par exemple dans une interview pour The Daily Beast, où il parle des personnages féminins forts dans ses films, il affirme :

Funny enough, I started my first meetings on the Blade Runner sequel last week. We have a very good take on it. And we'll definitely be featuring a female protagonist.
Les choses se précipitent. Voilà qu'Alcon Entertainment vient de publier le communiqué de presse suivant, où nous apprenons que le film se déroule quelques années après le premier :
LOS ANGELES, CA, MAY 17, 2012—Hampton Fancher is in talks to reunite with his Blade Runner director Ridley Scott to develop the idea for the original screenplay for the Alcon Entertainment, Scott Free, and Bud Yorkin produced follow up to the ground-breaking 1982 science fiction classic, it was announced by Alcon co-founders and co-Chief Executive Officers Broderick Johnson and Andrew Kosove.
The filmmakers are also revealing for the first time that the much-anticipated project is intended to be a sequel to the renowned original. The filmmakers would reveal only that the new story will take place some years after the first film concluded.
The three-time Oscar-nominated Scott and his Blade Runner collaborator Fancher originally conceived of their 1982 classic as the first in a series of films incorporating the themes and characters featured in Philip K. Dick's groundbreaking novel Do Androids Dream of Electric Sheep?, from which Blade Runner was adapted. Circumstances, however, took Scott into other directions and the project never advanced.
Fancher, although a writer of fiction, was known primarily as an actor at the time Scott enlisted him to adapt the Dick novel for the screen. Fancher followed his "Blade Runner" success with the screenplays, The Mighty Quinn (1989) and The Minus Man (1999). He has continued to write fiction throughout his career.
Scott also will produce with Alcon co-founders and co-Chief Executive Officers Broderick Johnson and Andrew Kosove as well as Bud Yorkin and Cynthia Sikes Yorkin. Frank Giustra and Tim Gamble, CEO's of Thunderbird Films, will serve as executive producers.
The original film, which has been singled out as the greatest science-fiction film of all time by a majority of genre publications, was selected for preservation in the United States National Film Registry by the Library of Congress as being "culturally, historically, or aesthetically significant." The film was selected for preservation in the United States National Film Registry in 1993 and is frequently taught in university courses. In 2007, it was named the 2nd most visually influential film of all time by the Visual Effects Society.
State Kosove and Johnson: "It is a perfect opportunity to reunite Ridley with Hampton on this new project, one in fact inspired by their own personal collaboration, a classic of cinema if there ever was one.

Donc pour faire simple, le scénariste original de
Blade Runner
, soixante-quatorze ans, et son metteur en scène, soixante-quinze ans, reviennent aux affaires pour montrer à ces petits jeunots comment on fait
de l'argent
un film !
Ce serait mentir que de dire qu'un tel projet n'est pas excitant. Mais j'aimerais surtout avoir des nouvelles de la série télévisée que
Ridley Scott
devait produire d'après
Le Maître du Haut Château !


Sur le même sujet lire :