Une interview de mai 1980
23/04/11 09:54 Rubrique :
Philip K. Dick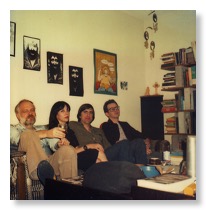 Je vous avais déjà signalé
l'apparition d'une nouvelle photo
de
Philip K. Dick
sur le compte
flickr
de
Nicole Panter
. On y voit
Philip K. Dick
,
Nicole Panter
,
K. W. Jeter
et
Gary Panter
dans une photo prise chez
Dick
.
Henry Baum
vient de publier le lien d'une interview qui correspond à cette photo,
parue en mai 1980 dans
Slash
.
Le tout est passionnant. On parle de beaucoup de choses, de politique, de religion. Je vous laisse la découvrir, elle contient quelques surprises. J'aimerais bien récupérer l'enregistrement audio !
DICK: God designed a really fucked-up universe as far as I can make out. I have this friend who had his cat and he was walking the cat and the cat tried to cross the street and a car came along and did in the cat … turned it into a fur pizza. This friend of mine has managed to destroy my whole theological edifice with this argument about his cat.
JETER: A dead cat is the ultimate refutation of any religious system. It was my cat.