21/05/09 11:51 Rubrique :
Cinéma
La suite improbable de Blade Runner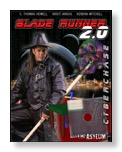 Il fallait bien que cela arrive un jour. La suite cinématographique de
Blade Runner
est presque de ces sujets qui enflamment le
net
dès que quelqu'un prétend avoir un bout d'information.
Maintenant, nous n'avons plus à attendre, et sommes soulagés, la suite existe.
Nous apprenons que
Blade Runner 2.0 : Cyberchase
a été écrit, réalisé par
C. Thomas Howell
... Enfin presque. En voici en tout cas le résumé:
In the year 2091 AD, a race of futuristic bounty hunters called "Blade Runners" are tasked with exterminating a deadly breed of lifelike robots known as "Replicoids." When Replicoid Cy Borg threatens to take over the entire internet using an advanced computer virus, Blade Runner Deckard 2.0 must stop him... or else all humanity may be destroyed!
Maintenant que vous êtes livide, voici le lien vers la
page originale
, une splendide
contrefaçon
d'une page IMDB que je ne peux que vous encourager à consulter.
Bon sang. J'adore ce dialogue :
Gaff: It's too bad she won't live! But then again, who does?
Deckard 2.0: [voiceover] It was then I learned I had been a Replicoid the entire time. I couldn't believe it! I thought I was a human being... but I was wrong... dead wrong.
Studying Blade Runner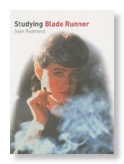 Plus sérieusement, j'ai déniché un petit essai sur
Blade Runner
qui à l'air assez intéressant. Écrit par
Sean Redmond
, il propose une brève analyse en une centaine de pages du film de
Ridley Scott
.
Je viens juste de le recevoir, je vous transmets l'information et en reparlerai plus tard... Quand je l'aurai lu !
À acheter aux U.S.A. chez
Amazon.com
ou en France chez
Amazon.fr
.